The main purpose of this ongoing blog will be to track planetary extreme or record temperatures related to climate change. Any reports I see of ETs will be listed below the main topic of the day. I'll refer to extreme or record temperatures as ETs (not extraterrestrials).😉
Main Topic: Smoke Appears At The North Pole For The First Time + Updates On Heatwave Eta
Dear Diary. There are so many hot climate items appearing on the front burner of news this week that we can't do justice by our one main topic per day format. Today I'm offering three for the price of one, so let's get started.
First, NASA has spied smoke over the North Pole for the first time in recorded history. This should not come as a shock considering how large and expansive Siberian wildfires have become as of mid August. Still, this is one more dire warning that our climate is increasingly getting out of balance. Please read:
https://www.theguardian.com/world/2021/aug/09/smoke-siberia-wildfires-reaches-north-pole-historic-first
We are seeing true unfortunate, rapid climate change in western and northern Russia. Here is our featured article for today:
https://www.washingtonpost.com/world/2021/08/11/siberia-fires-russia-climate/
Siberia's wildfires are bigger than all the world's other blazes combined
The shadow of an aircraft of the Air Forest Protection Service flying over a burned forest in Siberia's Sakha region on July 27. Russia's coldest region is experiencing major wildfires for a third straight year. (Dimitar Dilkoff/AFP/Getty Images)By Robyn Dixon August 11, 2021 at 8:08 a.m. EDT338
MOSCOW — For Russia, there are two types of fires raging across Siberia: the kind the authorities are fighting and the others they are allowing to burn.
That's because Siberia is so vast that huge fires can burn without threatening any major settlements, transportation systems or infrastructure — but are still part of a swath of infernos that together are larger than all the other blazes around the world.
On one level, the Siberian fires are part of an annual cycle. But many climate experts see the staggering scope of this year's fires as another sign of greater fire risks on a warming planet that is potentially being made even hotter by huge carbon emissions from the blazes.
Siberia's fires are pumping huge amounts of carbon into the atmosphere
Russia is fighting more than 190 forest fires in Siberia that have closed airports and roads, forced widespread evacuations and sent a pall of smoke across the North Pole. But it has abandoned dozens more fires covering thousands of square miles, with no effort to fight them.
Volunteers pause while working at the scene of a forest fire in the Gorny Ulus area, west of Yakutsk, Russia, on Aug. 7. (Ivan Nikiforov/AP)
As Russia faces one of its worst fire seasons, environmentalists say there is little urgency about an event that officials play down every year.
"For years, officials and opinion leaders have been saying that fires are normal, that the taiga is always burning, and there is no need to make an issue out of this. People are used to it," said Alexei Yaroshenko, a forestry expert with Greenpeace Russia. The taiga is a belt of coniferous forest around the planet at between 50 and 60 degrees north of the equator.
As Russia increasingly confronts extreme weather associated with climate change, the rapid spread of fires in Yukutia — a vast forested Siberian region around the size of Argentina — came with drought, some of the hottest weather on record and strong winds.
Climate change is real and it's permanent.
The fires raging in Siberia are bigger than fires in Greece, Turkey, Italy, the United States and Canada combined, with analysts warning that this year could surpass Russia's worst fire year, 2012, according to Yaroshenko.
Past wildfires in Siberia barely made a ripple in the Russian media. That's slowly beginning to change, Yaroshenko said. Still, many Russians are unaware of the risk of burning off small plots in volatile conditions, convinced that big fires are the result of powerful criminals or corrupt officials, covering up crimes — conspiracy theories for which there is little evidence.
More than 8,600 firefighters, agricultural workers, soldiers and other emergency workers are fighting forest fires that have burned more than 62,300 square miles since the beginning of the year, according to Greenpeace. That's an area nearlytwice the size of Austria.
Local officials say they are desperate for more volunteers and more money to fight the fires.
At the same time, authorities are letting 69 fires burn unhindered because they are too difficult to fight or do not threaten houses or economic infrastructure. These fires have scorched nearly 8,000 square miles — an area nearly 10 times bigger than California's devastating Dixie Fire.
More than 100 fires in the United States this year have burned 8,977 square miles, according to the National Interagency Fire Center. In Canada more than 13,000 square miles have burned so far this year in British Columbia and the Yukon, Manitoba and Ontario, according to the Canadian Wildland Fire Information System.
Fires in Turkey burned 681 square miles this year, according to the European Forest Fire Information System. In Greece, fires tore through 424 square miles, and in Italy, 403 square miles burned, the organization said.
Sunlight filters through smoke from burning forests near the Siberian village of Magaras on July 27. (Dimitar Dilkoff/AFP/Getty Images)
About half of Russia's forests are left unprotected by regional authorities, mainly because of inadequate funding for firefighting, Yaroshenko said.
"These forests have a very significant role in regulating the environment," he said. "Most of the forests in unprotected areas are in the far north. They grow very slowly, they are very sensitive, and if they burn down, the impact on the environment is huge."
Each year, hundreds of fires burn in Russia's forests and plains. Greenpeace bases its figures on statistics from Russian fire services that monitor the blazes.
Humans have pushed the climate into 'unprecedented' territory, landmark U.N. report finds
But Russia's Ministry of Natural Resources and Ecology only tallies fires in forest reserves that threaten populated areas, excluding fires in the open steppe or farmland. The ministry estimates that the area burned in forest fires this year at slightly more than 30,000 square miles, less than half the Greenpeace figure.
Even so, the minister, Alexander Kozlov, last week called for a more than 100 percent increase in the firefighting budget, from$81 million to almost $190 million.
Russian President Vladimir Putin on Tuesday ordered the Emergency Situations Ministry to expand firefighting teams and increase the operations of fire fighting aircraft in Yakutia.
Putin, meanwhile, sent two Ilyushin-76 firefighting aircraft and two Mi-8 helicopters to Greece to assist efforts to fight fires, the state news agency Tass reported Wednesday, after earlier sending firefighting planes to assist Turkey. Eighteen planes are fighting fires in Russia, but some critics oppose sending fire fighting equipment to other countries given the scale of the crisis in Russia.
Yaroshenko said a big problem was the reflexive,long-standing tendency of regional officials to put a gloss on localstatistics to avoid getting into trouble with their superiors in Moscow.
"Officials just lie about the scale of it, that is, they willfully misrepresent the data, because every official is responsible for making sure there is a beautiful picture," he said. "In general, it's no longer possible to hide the fire, as everyone can see what's happening with satellite images, but the habit is there, and they still sometimes try to hide these fires."
The region's head of forestry, Sergei Sivtsev, told Kommersant newspaper that the weather in June in central Yakutia was the hottest since 1888.
But officials and state media minimize the problem — with daily reports on how many fires have been put out or contained, not how much has burned. There is no focus on the loss of vulnerable old growth forests and no estimates of wildlife casualties, Yaroshenko said.
Aisen Nikolaev, head of Yakutia region, said last week that climate change was the main cause of the fires.
"We are living through the hottest, driest summer in the history of meteorological measurements since the end of the 19th century," he told RIA Novosti.
Smoke from the Siberian fires covered more than 2 million square miles, drifting across the Arctic and North Pole, according to satellite images from Copernicus, the European atmospheric monitoring agency.
Vladimir Leonov of the region's Aerial Forest Protection Servicesaid lightning strikes in dry storms triggered many of the fires.
Many people give credence to the pervasive conspiracy theories and rumors that say corrupt officials and business executives set the fires to cover up illegal logging. Yaroshenko said such cases are extremely rare. He said he knew of just two incidents.
Firefighters and volunteers have a briefing as they work at the scene of a forest fire in the Gorny Ulus area, west of Yakutsk, on Aug. 7. (Ivan Nikiforov/AP)
But the disinformation has meant that small farmers or villagers were unaware of the risk of burning land plots to clear weeds. Many of them thought burning dry grass helped new grass to grow.
"When people are sure that the forest is burned down by criminal intent, they don't think to exercise caution themselves. And now ordinary people are coming to the forests and leaving unextinguished fires there, and they no longer pay particular attention to these fires."
Last year, Russian fires burned 4.7 billion trees, seven times more than were planted, according to a Greenpeace study using satellite images. In one month, Russian fires emitted carbon equal to Sweden's total carbon dioxide emissions for the year.
Russia's summers are likely to be drier and hotter, according to the report of the United Nations Intergovernmental Panel on Climate Change released Monday. About a third of Siberia's permafrost will thaw by the end of the century, even if global carbon emissions fall sharply, the report said.
Read more:
Wildfires ravaged Siberia last year. This spring, the blazes are starting even bigger.
Rapid Arctic meltdown in Siberia alarms scientists
2020 rivals hottest year on record, pushing Earth closer to a critical climate threshold
By Robyn Dixon is a foreign correspondent on her third stint in Russia, after almost a decade reporting there beginning in the early 1990s. In November 2019 she joined The Washington Post as Moscow bureau chief. Twitter
Our third item is the latest ongoing U.S. heat episode known as Heatwave Eta.
The good news is that Eta, as a whole, peaked out yesterday. The system will exert its worst heat in the Northeast today with more exceptional warmth in the Northwest. A very large area of heat advisories has been dropped from the nation's heartland with advisories continuing for the Northwest and Northeast: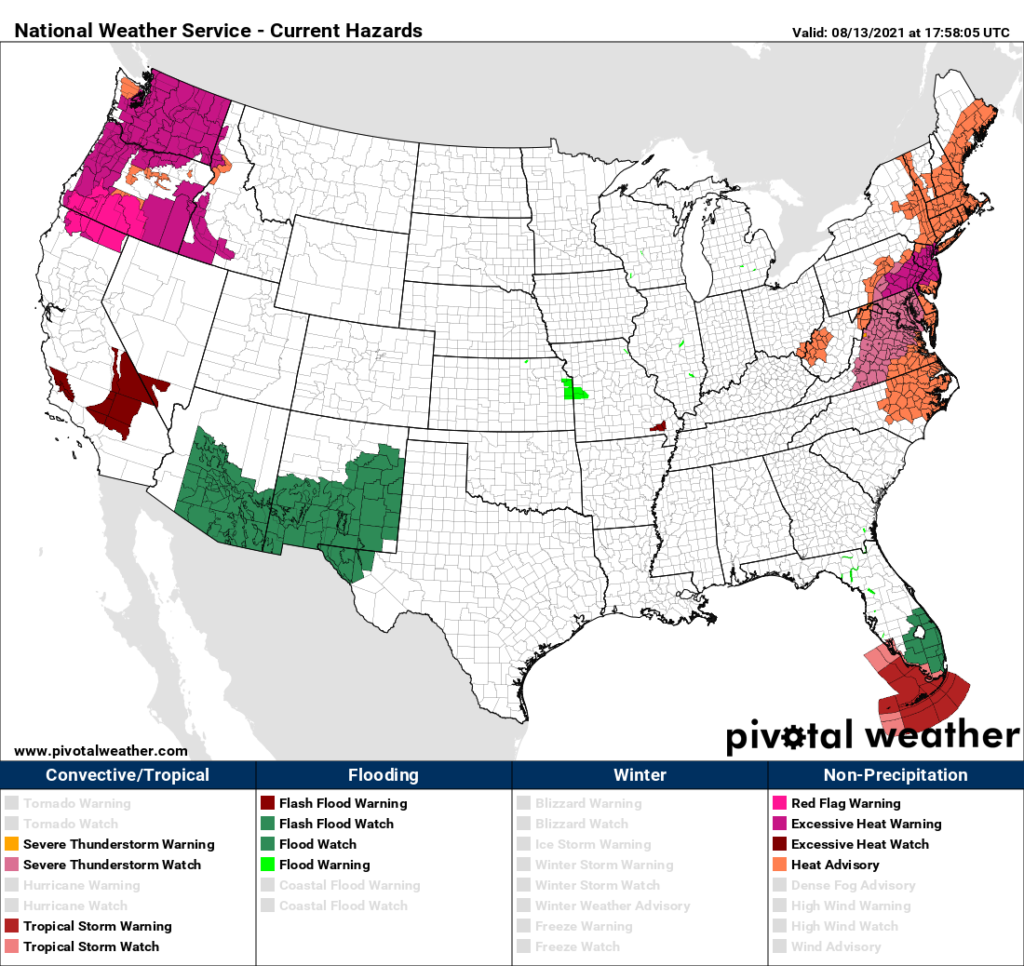 I'm expecting that most advisories will be dropped from the Northeast on Saturday and in the Northwest by Sunday. Heat will be ramping up again in the Southwest where few excessive heat watches are in place. It's no wonder since our heat done will collapse in the eastern U.S. and shift southward out of the Northwest over the weekend:
Here is a just published report on what I'll continue to call Heatwave Eta from the Washington Post. This is what a typical dangerous CAT3 heatwave will do using my ranking and categorization system:
https://www.msn.com/en-us/weather/topstories/punishing-heat-waves-peaking-in-northwest-and-northeast-to-ease-this-weekend/ar-AANi1TX?ocid=uxbndlbing
Punishing heat waves peaking in Northwest and Northeast to ease this weekend
Ian Livingston
---
Campfire restrictions in place across Oregon as fire danger, heat waves persistHolder on gerrymandering: 'Democrats don't have to cheat. … Republicans do'
Dueling heat waves continue to roast the Lower 48 as more than 100 million people remain under heat alerts on Friday.
High heat is parked over the Northwest and Northeast on Friday. Daily temperatures compared to normal shown. (weatherbell.com)
Twin heat domes — or high pressure systems — have baked large parts of the country since midweek, setting numerous records. One heat dome on the West Coast is flexing across the Northwest Friday and expected to sink south this weekend. The other, centered near the Mid-Atlantic states, is pumping hot air over the central and eastern U.S. and will also retreat to the south over the weekend.Heat wave blasts U.S. with 150 million Americans under alerts on Thursday
The heat waves follow several others this summer, including an unprecedented late-June event that delivered numerous all-time highs to the Pacific Northwest. Both corners of the contiguous U.S. have endured abnormally hot weather this summer. Climate change is boosting the intensity and frequency of such events.
High temperature forecast and record highs anticipated Friday. (weatherbell.com)
The heat event is currently peaking in Washington, Oregon, northern California and western Idaho. Excessive heat warnings for these areas are in place Friday and Saturday.
Record highs are anticipated on Friday in Seattle and Portland. Other locations in Washington expecting record highs include Olympia and Yakima.The science of heat domes and how drought and climate change make them worse
Temperatures in Portland are slated to top 100 degrees for a second day in a row. With five days at-or-above 100 so far this year, the city is tied with 1977 and 1941 for the most 100-degree days in a summer. One more 100-degree day, perhaps Friday, would mean 2021 stands alone on top of the list.
On Thursday, Bellingham, Wash., hit 100 for the first time on record. This is quite remarkable for a location 80 miles north of Seattle, on the water. It topped the old all-time maximum of 99 set during the June heat wave, among numerous other all-time records set across the region this year.
A sample of record highs on Thursday includes:
Eugene, Ore. — 104 degrees
Redmond, Ore. — 101 degrees
Vancouver, Wash. — 103 degrees
Portland, Ore. — 102 degrees (tie)
Bellingham, Wash. — 100 degrees (all-time)
Olympia, Wash. — 96 degrees (tie)
South Lake Tahoe, Calif. — 90 degrees
In addition to the extreme heat, places like Seattle will be dealing with smoky skies thanks to numerous wildfires in the region coupled with the hot land to sea flow. Smoke has been an issue across the country, but particularly in the Pacific Northwest, in recent weeks. The combination of excessive heat and extreme drought have intensified conditions ripe for fires across much of the West.
The local Weather Service expects sky conditions to improve in and around Seattle this weekend as the wind direction shifts. Extreme weather tormenting the planet will worsen because of global warming, U.N. panel finds
The core of the heat wave drops south this weekend. Excessive heat watches are up for portions of southern California and neighboring Nevada from Saturday through Monday.
Temperatures are forecast to rise into the 100- to 110-degree range for much of southern California and the Central Valley to the north this weekend into early next week. The hottest day across this area currently appears to be Sunday.
Heading into next week, temperatures in California and neighboring area will dip back to the 90s to around 100, except in typically hotter locations of the desert.
Northeast U.S. heat
Excessive heat warnings are up for Friday in southeastern Pennsylvania and much of New Jersey, including the Philadelphia metro area. Heat advisories run from North Carolina up the coast to Maine.
Friday is the final day of significant heat on the East Coast in this episode. When a cold front sweeps through on Saturday, many spots will have seen a week straight of hot conditions. Even Saturday will be cooler, if not truly cool, thanks to the front bringing more clouds, some storms, and eventually displacing the hot air.
A number of record highs are anticipated in the Mid-Atlantic and Northeast Friday, in places such as Bridgeport, Conn., Annapolis, Md., and parts of the New York City region. Widespread readings in the mid-90s to around 100 are a good bet from North Carolina to southern New England.
This is on the heels of a number of record highs Thursday, a sample of which is below:
Dulles, Va. — 100 degrees
Newark — 98 degrees (tie)
Lynchburg, Va. — 98 degrees (tie)
Roanoke — 96 degrees (tie)
Elkins, W.Va. — 92 degrees
Islip, N.Y. — 90 degrees (tie)
In addition to record highs, extreme humidity has helped set a number of record high low temperatures.
On Thursday, record high minimums were recorded in Bridgeport, Conn., Houlton, Maine; and Watertown, N.Y., among other locations. Places like Washington, D.C., also saw morning lows in the 80s Friday, which is quite unusual historically. Additional record high minimums are probable Friday, and perhaps Saturday.Hot nights have increased at a startling rate in Washington, D.C.
Saturday features cooler air spilling into western parts of the Northeast, while more typical summertime heat is squashed near the coast and deeper into the Mid-Atlantic and Southeast. Fairly widespread clouds and rain with the front should keep records to a minimum Saturday.
By Sunday, comparatively refreshing air will have taken over much of the northeast. That cooler air may be short lived as warmer than normal temperatures are anticipated to return later next week.
Here are some major "ET's" reported on Friday:
Here is some more July 2021 climatology:
Here is more climate and weather news from Friday:
(As usual, this will be a fluid post in which more information gets added during the day as it crosses my radar, crediting all who have put it on-line. Items will be archived on this site for posterity. In most instances click on the pictures of each tweet to see each article. The most noteworthy items will be listed first.)
Now here are some of today's articles and notes on the horrid COVID-19 pandemic:
(If you like these posts and my work please contribute via the PayPal widget, which has recently been added to this site. Thanks in advance for any support.)
Guy Walton "The Climate Guy"