Wednesday October 17th… Dear Diary. The main purpose of this ongoing post will be to track United States extreme or record temperatures related to climate change. Any reports I see of ETs will be listed below the main topic of the day. I'll refer to extreme or record temperatures as ETs (not extraterrestrials)😊.
Before getting started on today's topic check this TWC video out. In just about one minute anyone can tell that Michael was affected by climate change. (Gosh, it took me multiple posts to do this while one video with graphics can do this in seconds….darn.😉):
Here's why and how #HurricaneMichael strengthened and got as powerful as it did. @JimCantore @gdimeweather @HeatherZWeather @TVSportsGirl pic.twitter.com/0TqFTAlwOO

— Stephanie Abrams (@StephanieAbrams) October 17, 2018
Here is today's main climate change related topic:
Texas Tangles With An Atmospheric River
Regional or localized flooding can be sneaky for even trained meteorologists, sometimes not getting noticed after the fact by mets well away from the flood zone who are not National Weather personnel forecasting for the area. Serious flooding not coming from a named tropical system isn't sexy, often not getting picked up by media, except at The Weather Channel, until people start to get sweet away and whole communities and towns are destroyed. So called and becoming more common "thousand" year events do get national attention on nightly news broadcasts, though. 
Are you paying attention to the flooding in Texas…extreme weather events do not have to have names…#newnormals
9:43 AM – 17 Oct 2018
One such event happened in Texas over the weekend into the early part of this week from another atmospheric river streaming north from the deep tropics with roots in the eastern Pacific off the coast of Mexico. In this day and age of global warming we have seen time and time again that these flooding events are becoming more common since A) a warmer atmosphere holds more moisture and B) once released that moisture leads to heavier precipitation.
As of this writing about nine million people are under a flood watch in Texas. What has me concerned about portions of Texas is that the atmosphere appears to be "stuck" over the next week, not producing a front strong enough to clear the Lone Star Sate while also keeping convergence over the area. In met speak convergence is frontal systems and atmosphere flow that can squeeze out rainfall while also ushering in more water vapor for precipitation. Models have backed off on this scenario from yesterday, but the atmospheric river remains in place:
At the daily meeting of NWP:

ECMWF – "Okay group, what haven't we thrown at them yet for the end of October?"

CMC – "How about, wait for it, we take a Pacific hurricane and turn it into a Great Lakes blizzard?"

GFS – "I'm on it." pic.twitter.com/wfpbzqGoEn

— Sam Lillo (@splillo) October 16, 2018
What has happened in Texas so far? Here is what I am seeing on social media: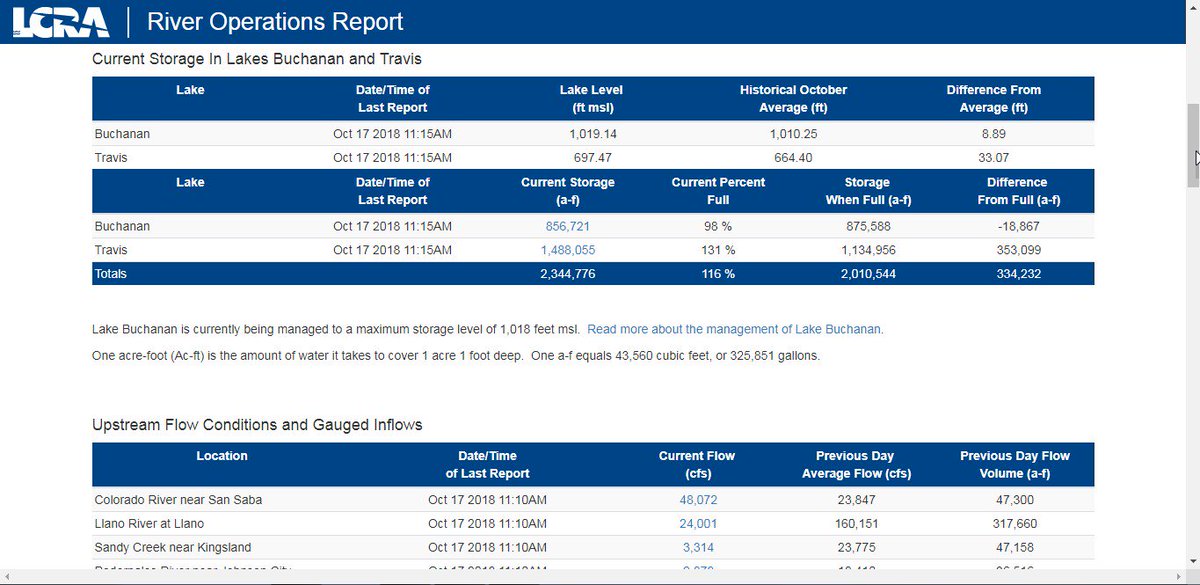 The Llano River as it meets with the Colorado River in Kingsland, TX is reaching record flood levels this morning. Yes, those are buildings in the background with water to the roof and a floating sign that says "Thank you, Come Again" #TexasFlood pic.twitter.com/sPgcvL8EPs

— Mike Iscovitz (@Fox26Mike) October 16, 2018
Big debris flow moving down #lakemarblefalls, water still rising @NWSSanAntonio @atxwxgirl #txwx #TexasFlood #LlanoRiver @NewsRadioKLBJ pic.twitter.com/0ZO4OoNhLj

— ADI (@texanatlarge) October 16, 2018
Major flood on #lakemarblefalls @NWSSanAntonio @atxwxgirl #LlanoRiver my parents boat washed away last night #texasweather #TexasFlood pic.twitter.com/IqijSQwRGv

— ADI (@texanatlarge) October 16, 2018
Southern United States as of 6 am: 72 hour Rainfall totals.
Heavy rains throughout the South with Texas bearing the brunt, with accumulated areas of up to 8 inches, mostly in the past 48 hours. Kentucky also with rain totals with up to 4 inches in some areas. More expected today.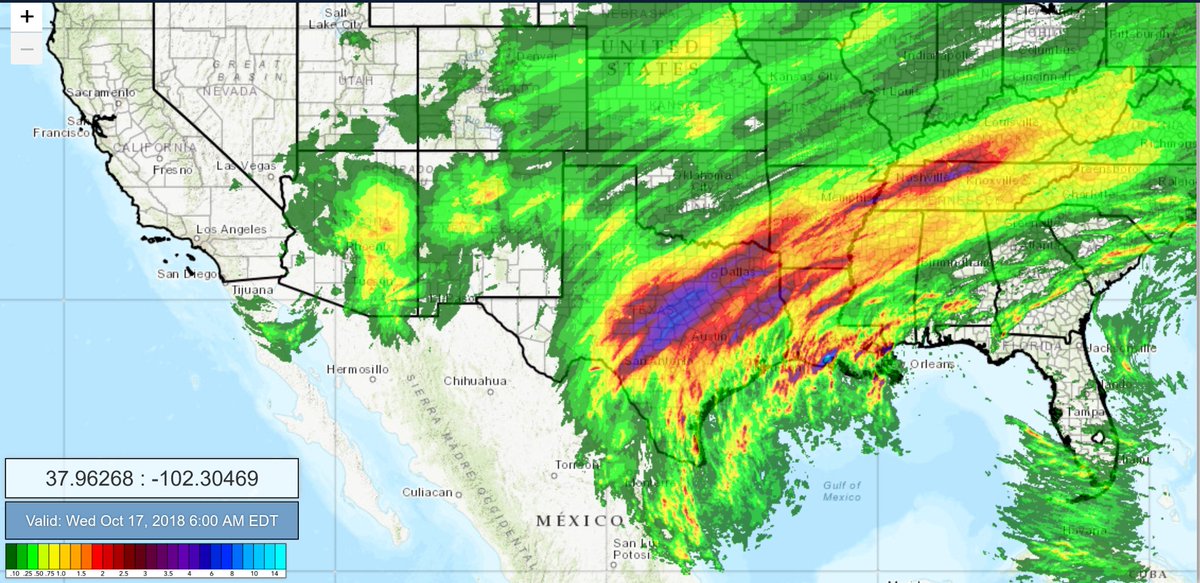 How did Dallas already set a new record for autumn total rainfall with half of the season still ahead? By DOUBLING the previous record for Sep 1-Oct 16 rainfall (23.31 vs. 11.63″ in 1932)!

Typically in October Texas is gradually settling into a cool to warm dry weather regime. Not this year. A shot of record cold air, that I contend was associated with the dipole, has interacted with warm thermodynamics stemming from near record warm Gulf of Mexico temperatures to produce a quasistationary frontal boundary squeezing out extremely heavy rainfall across north and central portions of the state. As Dr. Shepherd says, welcome to climate change 2018 style.
So when will this pattern finally give way to true dry fall weather across Texas? Probably not until after October 24th when a weak though stuck over the Southwest, another key player for the convergence, gets ejected over then east of the state: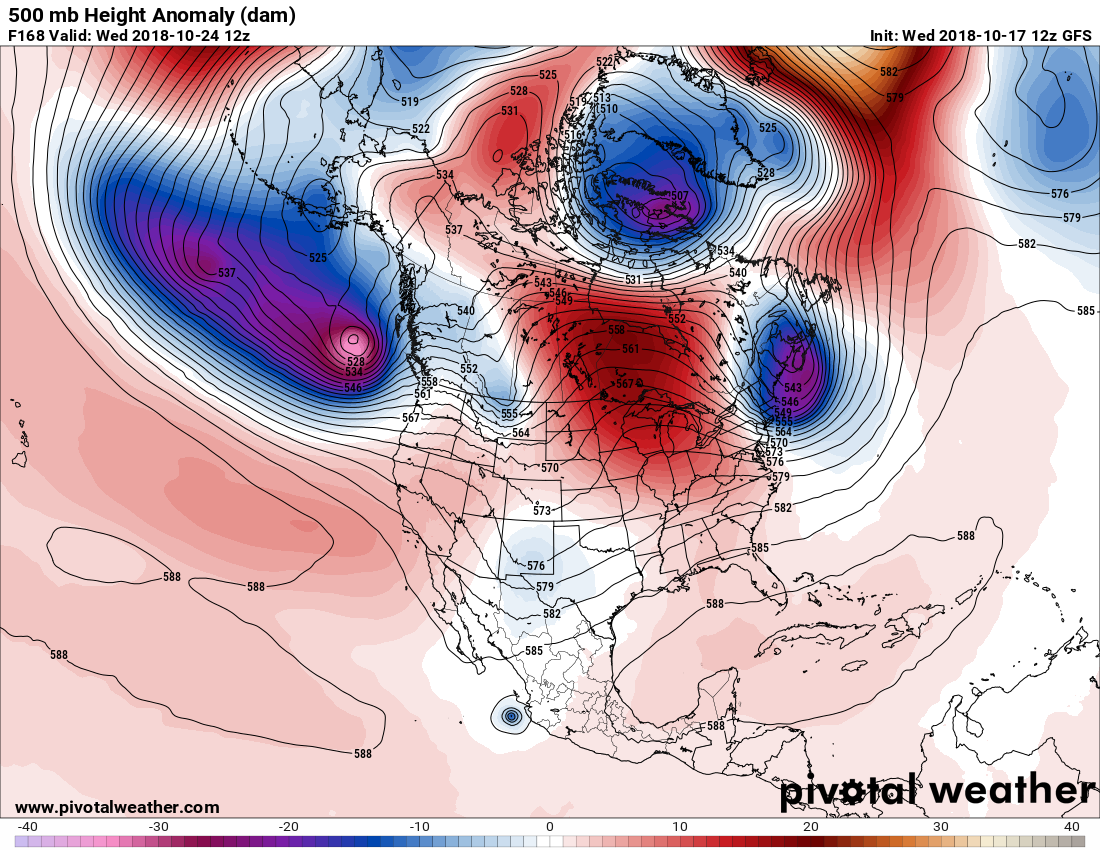 Until then I will keep an eye out for flood reports and models suggesting that the situation may get worse in the great state of Texas.
………………………………………………………………………………………….
I'll be adding my usual batch of daily weather and climate reports on this post later today.
(As usual, this will be a fluid post in which more information gets added during the day as it crosses my radar, crediting all who have put it on-line. Items will be archived on this site for posterity.) 
Here's our drive into #MexicoBeach this morning. Take this in. The reality is worse than you can imagine. @weatherchannel is live. pic.twitter.com/s7kNtc5hRl

— Justin Michaels (@JMichaelsNews) October 17, 2018
The string of warm Septembers in the mid-2010s is rolling right on into the late 2010s, according to the latest global data released today by NOAA https://bit.ly/2ykkUlu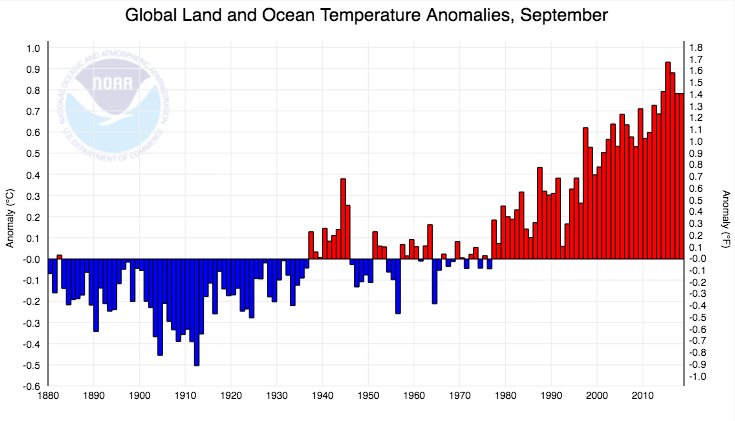 We're heading to a very warm Arctic winter!
In the next 16 days the Arctic will face incredible temperatures:
20 to 24°C above average.
It'll be very hard for the sea ice to grow in the next 5 or 6 weeks.
The only thing that happens, is the spreading of young thin ice. @UNFCCC pic.twitter.com/BbboJ9EiXf

— Kris Van Steenbergen (@KrVaSt) October 17, 2018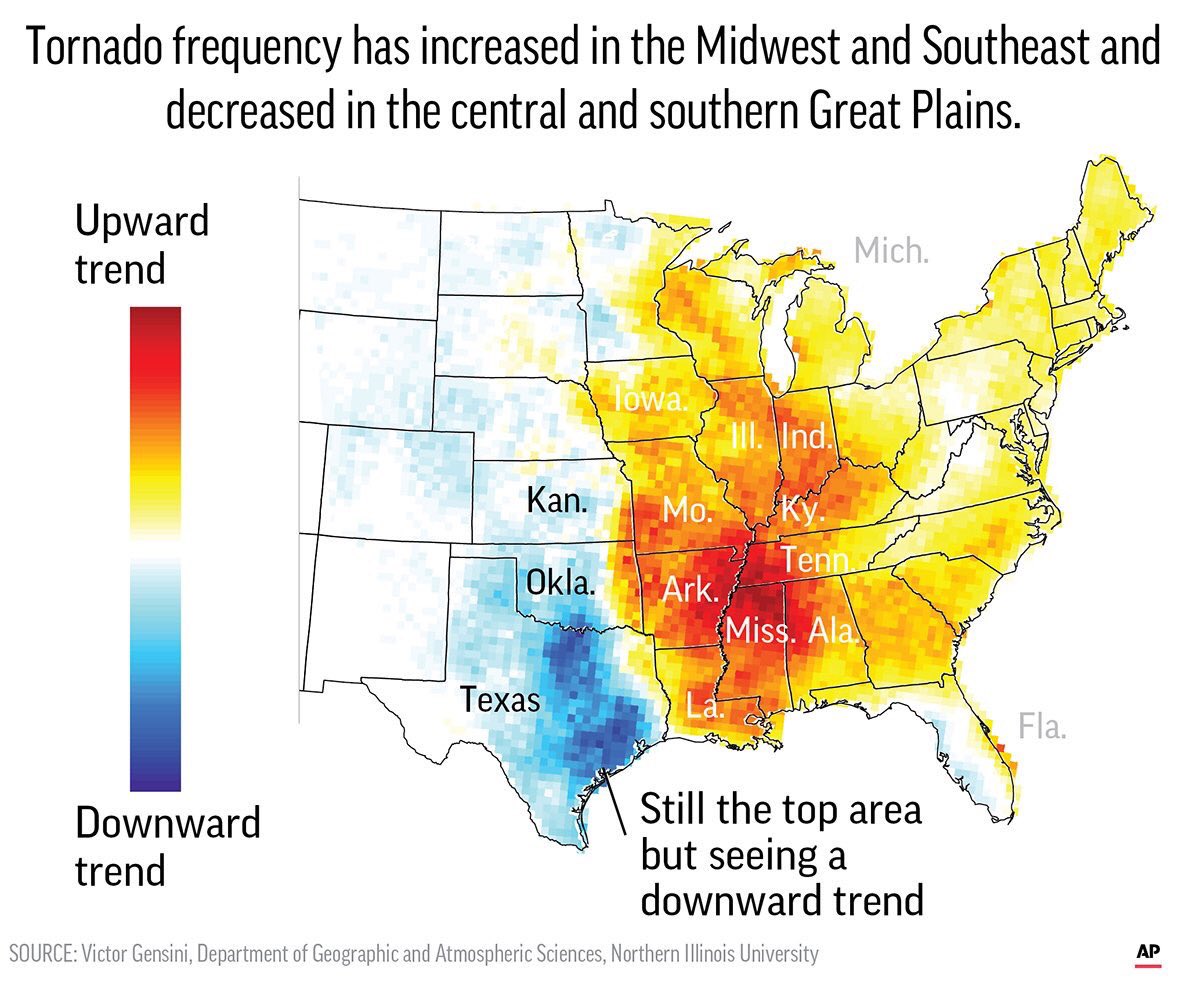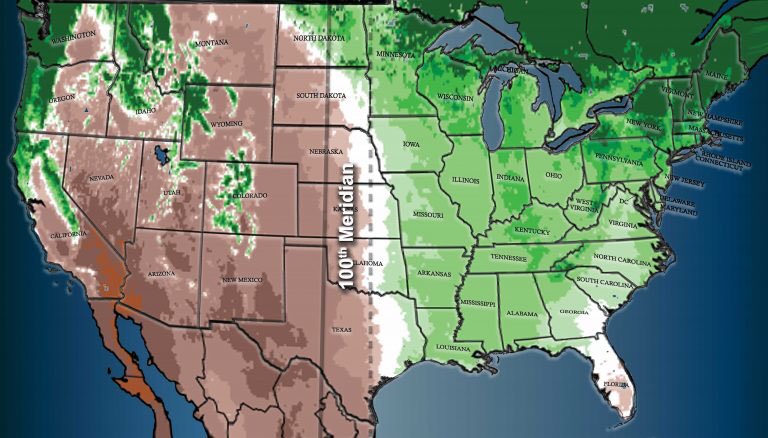 Here is a hot ET from Florida:
The high temperature soared to 94 degrees at Jax Int'l Airport, making this the hottest that it has ever been in #Jacksonville this late in the year. The prior latest date where the high reached 94 was 10/9/1941. The avg last day of a 94 degree high is August 29th #flwx #jaxwx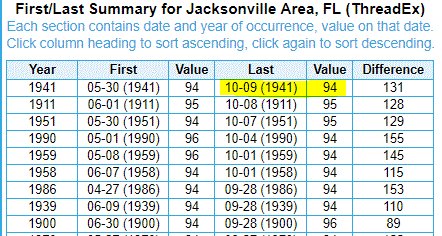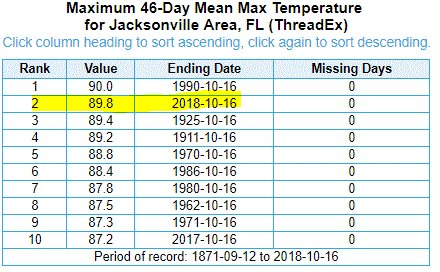 (If you like these posts and my work please contribute via the PayPal widget, which has recently been added to this site. Thanks in advance for any support.)
The Climate Guy